I actually made something for myself ! I Made a jumpsuit / playsuit or romper if you are American. I used a pattern from Ellie and Mac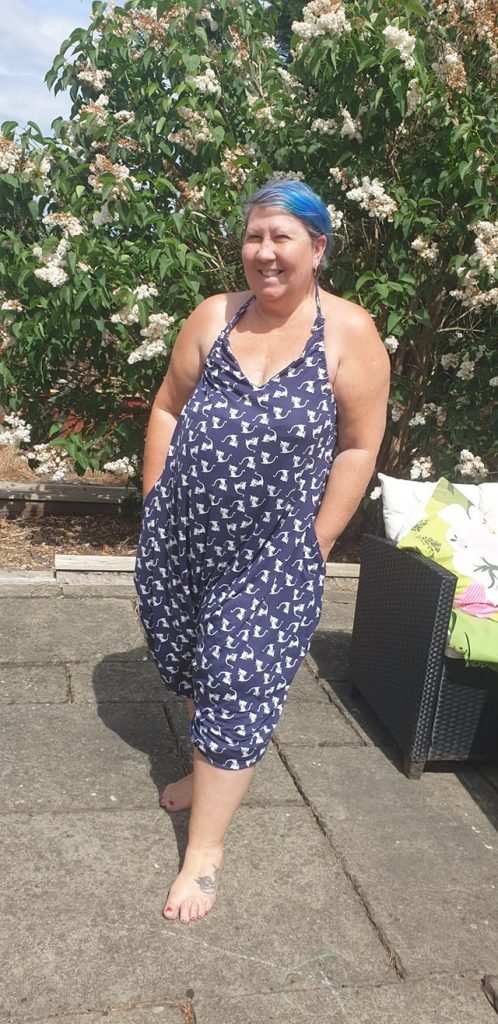 I Love the little kittens on this fabric it's really fun & love this style. Plus pockets are a must !
I bought the fabric off ebay. It's 2 way stretch navy jersey. It was £3.99/m. I bought 4m. I have enough left over to make some leggings for my daughter.
The pattern is by Ellie & Mac. I purchased it off their website.
It is another of those pdf downloads that I hate. Takes longer to sellotape all the pages together & then copy the pattern out than it does to sew.
That said. Ellie & Mac patterns are great and reasonably priced. Plus once printed and sorted it can be reused so there is that bonus. This pattern was £4. So very good price.
The link to this one – the Happy Dance Romper is here. https://www.ellieandmac.com/collections/adult-romper-patterns/products/adults-happy-dance-romper-pattern
I also love the South Shore Romper and have printed that out to make for myself. I plan to make the shorts version one. I am really really hoping for sunshine. What I love about these patterns is you get lots of photos of the end result from people who have made them so you get a very real impression of what the end result will look like. I will have to remember to add my photo to the gallery.
Check out the Ellie & Mac website for lots of great patterns. https://www.ellieandmac.com/collections/adult-romper-patterns/products/adults-happy-dance-romper-pattern